Hey guys! Yep I am back already..lol. Ok I have a couple more items in store to share with you, some QP's, a sale and a freebie! Lots going on! Ok first up I must share with you the simply gorgeous QP's Beth made from my Hearts Of Old kit. They truly are beautiful! Thanks ever so much hunni, your a star!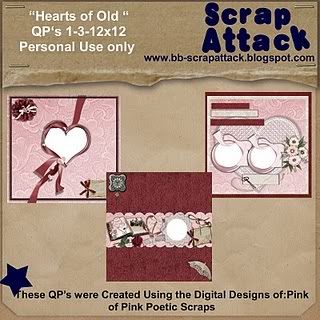 You can snag them on her blog
HERE
. Next up, on the 19th, this friday, it will be exactly one year since I opened my blog and posted my very first kit 'Aqua Ice'. I can't believe a year on I am still doing this, not with my attention span anyway...lol. In celebration I am having a 50% off everything sale as well as maybe giving away a few gifts in the next week or so :)
Although I am still learning, with PSP I am now comfortable and tend to know what I am doing, since comfortable doesn't seem to sit well with me I thought it was time to get frustrated, pull hair and scream again....enter photoshop, everything I need to confuse me...lol. Anyway I found these things called layer styles, I was told they are fab so figured I would play...I had fun and created some layer styles for the stores here... Grunged
Girly
Real cool hey! If you think so you can snag them at either store, blinkies right, and right now they are half price! And I have one real cute layer style to give away. It was created in CS3 and has been tested in CS2 & CS4 and is CU friendly. I hope you have as much fun playing with this as I did creating it. Well thats it from me for now! Have a fantastic day/night where ever you are, take care! TTFN! The preview and links are below! Happy scrapping :) Hugs Pink xx Love Bubbles - Drop shadow on preview only.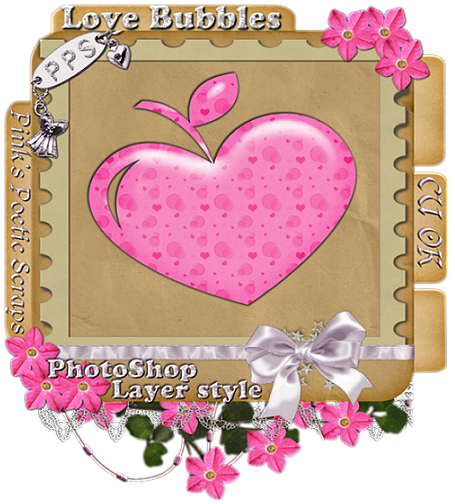 Snagable here
DOWNLOAD
If you take a moment to download please take a moment to say thanks :)